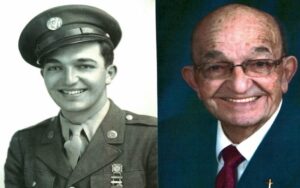 died peacefully at home, surrounded by his loving family on March 1, 2022. Art was born November 9, 1923 in Winsted, MN to Charles B. and Ruth (Roufs) Guggemos.
He was raised in Winsted, attended Holy Trinity Schools and graduated in 1941. Art was drafted at age 19 and entered the U.S. Army Air Corps in 1943. He was assigned basic training at the Lincoln, NE Air Base and subsequently was accepted into the Army Specialized Training Program at Kansas State College in Manhattan, KS and spent time at multiple bases before shipping off to England and then to France via Omaha Beach in late 1944. Assigned to the 2nd Infantry Division (Indianhead), 23rd Regiment, Company B, 1st Platoon, Art fought bravely in the Battle of the Bulge during WWII. For his efforts he received The Bronze Star, The Purple Heart and several decorations/awards. He was honorably discharged in 1946.
After the war, Art attended The Ray Photography School in Chicago and returned to Winsted to offer photography services. He also partnered with his brother Harold to form "Guggemos Brothers Decorators" providing home decorating, painting, flooring and tile work. He later joined Sterner Lighting in Winsted and worked as a Mechanical Design Engineer producing custom outdoor lighting for 34 years until his retirement in 1991. Art was known by many as someone who could fix anything—He even had the skills to design and build his own home from the ground up. Art's many talents included tinkering, drawing and painting, woodworking and crossword puzzles.
Art married Donna Dirkswager (the love of his life) at St. Timothy's Catholic Church on June 26, 1951 in Maple Lake. They resided in Winsted, were faithful members of Holy Trinity Church and devoted their life to raising their eight children.
He treasured his time with family and friends, and loved dancing with Donna. He also liked fishing, golfing and attending his children's countless athletic events. He especially enjoyed winters in Arizona, relaxing summers at Breezy Point Resort, and cabin time in NW Wisconsin.
He was a cherished husband, father, grandfather and great-grandfather who will forever be remembered for his sense of humor, kind heart, optimism, sharp mind, and an appreciation for the natural beauty of the outdoors.
Preceded in death by Donna, his beloved wife of nearly 70 years, and three brothers: Ken, Harold and Don; Sisters-in-law: Doris (Vieau) Guggemos and Tess (Antil) Guggemos. Survived by his children: Gary, Nancy (Rick) Greenfield, Jon, Jill (Dave) Gunderson, Gregg (Liz Kiecker), Lori (John) Stephan, Charles, Neal (Julie); Grandchildren: Jennifer (Matt) Chumley, Jill (Dominic) Reed, Michael (Michele) Gunderson, Christine (Chase) Marshall, Paige (Kevin) Bergkvist, Scott and Trevor Stephan, Roman Heimerl, Nick (Addie Brokaw), Alexa and Matt Guggemos; Great-grandchildren: Aubriana and Bridget Chumley; Sister-in-law: Helen Guggemos.
Art's family would like to thank the extraordinary caregiving teams from Allina Health Hospice Services, and Independence Home Care. Special thanks to Pat Aldrich and Julie Weinbeck for their dedicated, loving and compassionate care.
A Mass of Christian Burial will be held at 11:00 am on Saturday, March, 26th, at Holy Trinity Catholic Church in Winsted with visitation 1 hour prior. Luncheon to follow in Church Social Hall.
Memorials preferred to Allina Health Hospice Foundation/Honor Fund.