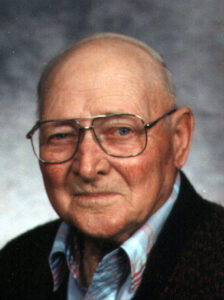 Arthur James Christenson
May 24, 1916 ~ June 25, 1999 (age 83)
Arthur Christenson, of Mandt Township, died on Friday, June 25, 1999 at the Chippewa Co – Montevideo Hospital at the age of 83.
Funeral services will be conducted on Monday, June 28, 1999 at 10:00 AM at Jevnaker Lutheran Church with Rev. Gregory Gabriel officiating.  Burial will be in the church cemetery.
Visitation will be Sunday afternoon and evening with a prayer service at 7:00 PM at the Anderson Funeral Home in Montevideo.
Arthur James Christenson was born on May 24, 1916 in Mandt Township of Chippewa Co., MN to Casper and Inga (Pederson) Christenson.  He was baptized and confirmed at Jevnaker Lutheran Church and attended rural schools.  He served in the US Army from November, 1941 to May, 1945.  He served in the 37th Infantry in the South Pacific and was wounded in action.  He was awarded the Purple Heart, Silver Star and Bronze Star.  On November 10, 1946 he was united in marriage to Alice Heschke at Jevnaker Lutheran Church by Rev. C.T. Jenson.  He farmed in Mandt Township for many years before retiring.  He was a life-long member of Jevnaker Lutheran Church where he served as President of the congregation, a Sunday School teacher and a council member.  He served for over 30 years on both the District 64 School Board and Mandt Town Board.  He was a Cargill seed corn dealer, a life member of the Disabled American Veterans and served as it's commander, a life member of the VFW and a member of American Legion Post #259 in Milan.  He loved to fish, spend time with his family – especially grandchildren and great grandchildren and loved to listen to Twins games.
He is survived by his wife – Alice; 7 children – JoAnne (Stan) Glimsdal of Benson, MN; Jerry (Joan) Christenson of Montevideo; Vonnie (Tony) Daub of Brooklyn Park, MN; Gail (Ron) Seeklander of Bruce, SD; Darlene (Bill) Cleland of Torrington, WY;  Richard (Donna) Christenson and Tom (Denise) Christenson of Montevideo; 16 grandchildren – Mark, Diane & Rodney Kittelson; Kari (Adrian) Wahlstrom; Lori Christenson; Sherry and Jason (Sara) Daub; Ashley & Adam Seeklander; Billie Jo (Jesse) Shaw; Scott and Bobbie(Jesse Moore) Cleland; and Jim, Jessica, Jeanna and Amber Christenson; 5 great grandchildren; 2 brothers – Selmer (Wilma) Christenson of Coon Rapids, MN and Milfred (Murial) Christenson of Ashland, NB; 4 sisters – Ione (Arnold) Seeman; Avis Kittelson and Barb (Doug) Bosch of Montevideo and Lois (Pete) Hoefs of Hutchinson, MN; as well as by numerous nieces and nephews.
He was preceded in death by his parents; by grandsons – Nathan Seeklander and Luke Christenson ; by brothers – Harold, Delbert and Clifford Christenson and by sisters – Arlene Pitt and Elna Jacobson