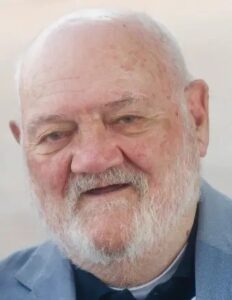 WILLIAM "BILLY" RODGERS
Billy passed away on August 1 at the age of 93. Billy is survived by his wife of 68 years Jean Ann (Lorenz), and his five children: Linda/Tom (Clark), Karen/George (Bertodatto), Bill/Sally, Bob/Kris, and Lori/Robyn (D'Reaux-Rodgers). He is also survived by 17 grandchildren and 23 great grandchildren.
Billy graduated from South Eastern High School in Detroit in 1950 and then proudly served in 7th Division, 32nd Regiment/Company D of the Army as a machine gunner in the Korean War. He was combat wounded on 10/16/52 on the 38th Parallel, in a conflict on Triangle Hill, where Billy earned the Bronze Star (w/Valor), and the Purple Heart.
Upon his return, Billy completed some course work at Western Michigan University and Wayne State University.
Billy was an active personality in the Detroit sports scene, having spent time working at the Detroit News, being a member of the Press Club, working for the Pistons from '65-'72, and then for the Stroh Brewery from '72-'86. Billy finished out his career working for a beer distributor in the western suburbs. Billy owned the University of Detroit hot spot, "The Golden Twenties" where he hung with the likes of Dave DeBusschere and Tom "The Bomb" Tracy. Billy was an avid baseball fan, having multiple letters of his published in Baseball Digest.
Billy and Jean spent their retirement years in FL and SC, followed by the last 8 years in MN.
A funeral mass will take place to celebrate Billy's life at Gesu Catholic Church in Detroit on 8/31/23 at 10am. Mass will be followed by a military burial service at Holy Sepulchre Cemetery in Southfield at noon.
In lieu of flowers, please consider a donation to the Alzheimer's Association at this link:  http://act.alz.org/goto/Billy_Rodgers