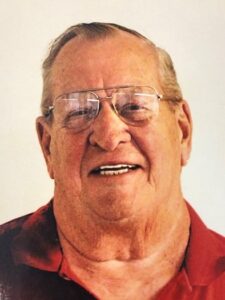 February 17, 1934 ~ January 27, 2021 (age 86).  Richard C. Holdorf, age 86, of Winona, passed away on Wednesday, January 27, 2021, at Winona Health.
He was born on February 17, 1934, in Eau Claire, WI, to John C. and Dolores (Conrad) Holdorf. After graduation from Regis High School of Eau Claire in 1953, Richard entered the United States Navy, where he honorably served until 1973.
On April 14, 1962, he was united in marriage with Ruth Jordan at St. Mary's Catholic Church in Winona. After the military, Richard took a position with the Winona Post Office, where he was employed from 1974-1995.
He was well-known locally for his extensive work as an umpire for softball, volleyball, and basketball at the local, state, regional, and national tournaments.
Richard was a member of St. Mary's Catholic Church, Winona Officials Association, Fleet Reserve Association, Goodview Activities Group, American Softball Association, Minnesota Sports Federation, and the Minnesota State High School League. He was also a member of the Veterans of Foreign Wars – Neville-Lien Post 1287 of Winona, the Winona AmVets, and the Winona Chapter of the Military Order of the Purple Heart.
In his retirement, Richard's family felt they got to know, appreciate, and love him in a new way, as he was able to be involved and spend more time with his family. He will be missed by all those who loved him.
Richard is lovingly survived by his wife, Ruth, Winona; children: Martha Jean Adank, Winona; Matthew John (Claudia) Holdorf, Winona; grandchildren: Dalyla, Dominick, and Dakota Adank; Amber, Nathan, and Ashley (Martin) Holdorf; great-grandchildren: Dustin, Elizabeth, and Daisy; as well as other relatives and friends.He was preceded in death by his parents, and his siblings: Suzanne Lund, Dolores "Dede" White, Gretchen Craemer, Donald Holdorf, and John Holdorf, Jr.
A Mass of Christian Burial will be offered at 11 AM on Wednesday, February 3, 2021, at St. Mary's Catholic Church in Winona, with the Reverend Michael Cronin officiating. A visitation will be held in the Commons of St. Mary's Church on Wednesday, February 3, 2021, from 10:30 AM until the time of the Mass. Those attending will be required to wear a mask and to follow social distancing guidelines.
Following the Mass, military honors will be provided by the Veterans of Foreign Wars Neville-Lien Post 1287 by the Purple Heart Memorial at the Veterans Park by Lake Winona. Richard will be laid to rest at St. Mary's Cemetery in a family ceremony at a later date.
Online condolences or memories may be left for Richard's family at www.watkowski-mulyck.com.
Watkowski-Mulyck Funeral Home is assisting the family with arrangements.