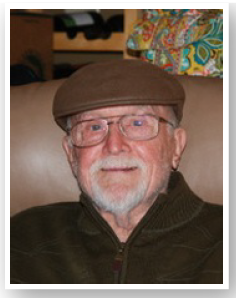 John Andrew Skoog, January 27, 1929 – February 24, 2020.  John Andrew Skoog, age 91, of Prior Lake, MN, previously from Omaha, NE died Monday, February 24, 2020 peacefully at his home. Born on January 27, 1929 in Joliet, Ill, to the late Andrew Alfred and Jennet Isabelle (Rajala) Skoog. Loving husband of Patricia Marie (Randich) Skoog of 64 years. He is survived by son Eric (Terri) of Denison, IA, daughter Lisa (Paul) of Minneapolis, MN, son Jon (Deborah) of Pittsburgh, PA, and son Chris (Belinda) of Tulsa, OK. He is grandfather to 9 grandchildren and 3 great grandchildren. He is preceded in death by his sister Sally and brother-inlaw Robert Howen.
John is a Korean War Veteran and Purple Heart recipient.
John moved to Omaha in 1959 to open the first of six McDonald's Drive-In franchise restaurants. Subsequent to the divestiture of McDonald's he was involved with many Omaha business ventures and community organizations. He loved to travel with wife Pat and family. He was an active competitive masters swimmer.
Celebration of Life, Saturday, March 7, 2020 at McKenna Crossing Chapel, 13810 Shepherds Path NW, Prior Lake, MN 55379. Visitation from 12:30-1:30 pm, and Celebration at 1:30 pm. Officiating is Pastor Karen Treat.
His remains will be inurned at the Abraham Lincoln National Cemetery, Elwood, Ill on Friday, July 31, 2020 at 1:00 pm.
In lieu of flowers, memorials preferred to McKenna Crossing Enrich Program, 13810 Shepherds Path NW, Prior Lake, MN 55379.
Arrangements with McNearney-Schmidt Funeral and Cremation, Shakopee, (952) 445-2755.
Condolences may be shared at www.mcnearneyfuneralhome.com