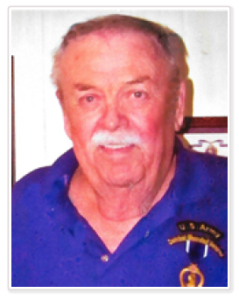 Arlyn D. Olson, April 30, 1949 ~ December 9, 2020 (age 71). Arlyn D. Olson was called to his heavenly home on Dec. 9, 2020. He was 71 years old.
Arlyn was born in Lanesboro, on April 30, 1949, the oldest of 6 children of Fern and Emil Olson.
He grew up and attended school in Preston, MN. Shortly after his 18th birthday in 1967, Arlyn enlisted in the U.S. Army. It was during the height of the Vietnam War, and after completing his basic and advanced infantry training, Arlyn was deployed to Vietnam. His year of duty there was cut short when he was wounded in a mortar explosion on September 26, 1968. After several months in a Japanese hospital, Arlyn was sent to Fort Riley, KS where he finished the rest of his 3 year enlistment, including some time in Germany. He was honorably discharged in 1970.
Arlyn was united in Holy Matrimony to Marianne Baudek on Aug. 22, 1975, at St. Joseph's Catholic Church, Chisholm, MN. For all who knew them, they were a loving couple who were very supportive and dedicated to each other. They were blessed with a daughter and a son.
Arlyn was a skilled truck driver, working for many years at Rich's Truck Leasing, then for Lawrence Transportation. He became a million mile club member, delivering in all 48 states proudly never having an accident.
At age 59, Arlyn was diagnosed with COPD. The first years were quite challenging, but he improved over time and was able to lead a very productive life, including returning to his truck driving career part time which he truly enjoyed. Most recently he was transporting an Amish family and they formed a wonderful friendship.
Arlyn loved to spend time with his family, especially his grandchildren who meant the world to him. He was able to take his 2 oldest grandsons to TX twice to hunt wild boar. They had a great time and all of them were successful in bagging their boars. Arlyn was also a big animal lover, especially dogs, which he had all through his childhood and adult life.
Arlyn was military through and through. He was a member of the VFW Post and the American Legion Post in Winona and also a member of the Military Order of the Purple Heart Chapter 5555. He was deeply involved with the fund raising for the Purple Heart Monument which is located at Lake Park and he was in charge of all the brick orders that are in the walkway there. His grandson Matt just installed 2 new bricks there last month in time for Veteran's Day. Arlyn was also a member of the Sons of Norway and the Winona Elks Lodge.
Arlyn was very special, and all who knew him would whole-heartedly agree. He is survived by his loving wife of 45 years, Marianne; daughter, Kim Elizabeth, Madison, WI; and son, Jeremy Arlyn, Rochester; 4 grandsons: Matt, Shawn, Armonte and Maddox; a granddaughter, Elliotte Ann; two brothers, Norman and Jerry; sister, Lois; who all live in Preston; and a sister, Roxie, in Rochester; uncles: Aaron and Richard Klompenhower; a sister-in-law and brother-in-law, Patricia and Mike Bretto; as well as many nieces, nephews and cousins. He was preceded in death by his parents; his brother, Kim Roger; many aunts, uncles, cousins, grandparents; in-laws, Leo and Josephine Baudek; and a brother-in-law Leo Baudek, Jr.
It was Arlyn's wish to be cremated and laid to rest in the beautiful Veterans' Cemetery is his hometown of Preston. A burial and celebration of life is planned for the spring when the Covid is under control.
Arlyn will be deeply missed by his family and his many friends.
Online condolences or memories may be left for Arlyn's family at www.watkowski-mulyck.com
Watkowski-Mulyck Funeral Home is assisting the family with arrangements.