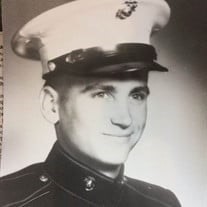 Harry L. Burke Jr, age 93, peacefully passed from death into life on September 6, 2022. He was surrounded by his loving family when he joined the heavenly choir and the great cloud of witnesses in Christ's eternal kingdom.
Harry was born to Ida and Harry Burke Sr. on Feb 27, 1929, in Detroit, MI during the Great Depression. He spent the rest of his life in Minnesota except for some momentous months as a US Marine in Korea during the winter of 1950. He was one of the last surviving members of the legendary Fox Company, 2nd Battalion, 7th Regiment,1st Marine Division. More than 200 brave Marines who were outnumbered 8 to 1 endured a continuous four-day battle in subzero temperatures. Three quarters of the company were killed, wounded, or captured but they achieved the objective of keeping a vital mountain road open for thousands of US soldiers.
Harry did not speak about his experience in Korea until the last third of his life when he showed his family his Purple Hearts and became active in the "Chosin Few" organization. Whenever he was told that he was a hero, he would always reply that the real heroes were his fellow Marines who never made it home.
Upon his return from Korea, Harry met and married Ruth Carlson in August of 1954. Daughter Sue was born in June of 1955, with Cindy to follow just one year and two days later in June 1956. Barb was born in 1959, and Stephanie, a fourth daughter rounded out the Burke family of 4 beautiful girls in 1961. When Harry was told that he and Ruth had a fourth daughter, he is said to have beamed with pride. Instead of the expected "Steven", they aptly named their new daughter "Stephanie."
The Burkes happily made their new home on Penn Lake in the new suburb of Bloomington in the Spring of 1956. Harry lived his entire adult life in that house until his move to the retirement community of Applewood Pointe in 2014. Harry and Ruth became charter members of St. Stephen Lutheran Church when it opened in 1959, and Harry immediately joined the choir, adding his strong Baritone. Harry was recognized and honored as the longest serving member of the St. Stephen Sr. Choir at the 2019 50th Anniversary celebration of the church.
A graduate of Dunwoody Institute, Harry worked for Honeywell for most of his career as a mechanical technician, utilizing his gifts for minute detail and design. He was a gentle and kind servant, a husband, father, grandfather and great grandfather, brother, uncle, carpenter, fixer of all things, outdoorsman, gardener, athlete, community volunteer, life long singer and faithful friend to all.
Harry was preceded in death by his wife, Ruth, in 1989. He is survived by his daughters, Susan (Jeff) Knight, Cindy (Steve) Calvin, Barbara (Hank) Tjader and Stephanie (Bob) Anderson. Grandchildren Jacob (Karlee), Lauren, and Daniel Knight, Paul (Anne) Calvin, Ruth (Taylor) Beahrs, Christiana (Jordan) Fitch, Lucas Benshoof, and Sydney and Samantha Anderson. Great grandchildren Berit, Jack, Meta and Sigrid Calvin, Oliver, Earl and Harry Beahrs, and Hazel, Esther, Sylvie and Ada Fitch. He is also survived by his devoted friend and companion Phyllis Berg.
A funeral service will be held at 11 am on Wednesday, September 14 at St. Stephen Lutheran Church in Bloomington, live stream at https://youtu.be/VsZVvNG1XQU Visitation will precede the service at 10 am and a lunch will follow. Private internment at Fort Snelling National Cemetery.
Memorials preferred to St. Stephen Lutheran Church or The Wounded Warrior Project.
We are deeply grateful for the care he received by the loving, attentive and devoted staff at The Commons on Marice and Brighton Hospice.